Nov 12 2013
CHURCH PARK
Cuyahoga Falls has been very fortunate to have always had parks handy to meet all occasions, starting in 1835 when William Wetmore dedicated the full square block bounded by Second, Third, Portage, and Stow Streets for church purposes forever and deeded it to the village to be known as Church Park. The first brass band in Ohio was organized in Cuyahoga Falls in 1834 and Church Park in the heart of town was an ideal location for a bandstand for musical programs and Saturday evening ice cream socials, along with many other local public activities. The Church Park has served this community well while being a beauty spot in the heart of our busy city. 
Church Park Grandstand
At some later date a grandstand was built in the northwest corner of the church park, about equal distance from Stow and Fourth Streets. This grandstand was hexagonal in shape and two stories high. It had a roof but was open on all sides. The band performed on the top floor which was reached by an outside stairway.. A railing ran all the way around. The lower floor was enclosed and used as a voting booth for many years. Free band concerts were held on Sunday afternoons during the summer months. The audience relaxed on the grass or roamed about meeting and greeting. Children ran about and played among school friends. There used to be an exact duplicate located in Hudson, possibly built by the same carpenter. Life was more serene in the days of the bandstand.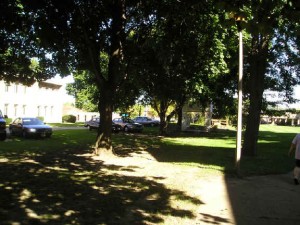 Facing East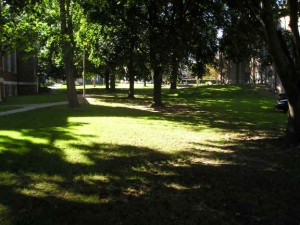 Facing West