Aug 21 2014
This beautiful home once graced the land at 14 N Front Street in the 1920s. It was the childhood home of Thelma Smith, born 1901, shown at the right in the photo standing on the step, along with members of her family. Note the car parked in the garage. Miss Smith said her father, Dr. Floyd Deloss Smith, was the second person in the city to purchase a car. According to Miss Smith the car was jacked up in the winter time. The house was the next door neighbor to the famed Clifford Inn, which was located on the northwest corner of Portage Trail and Front Street.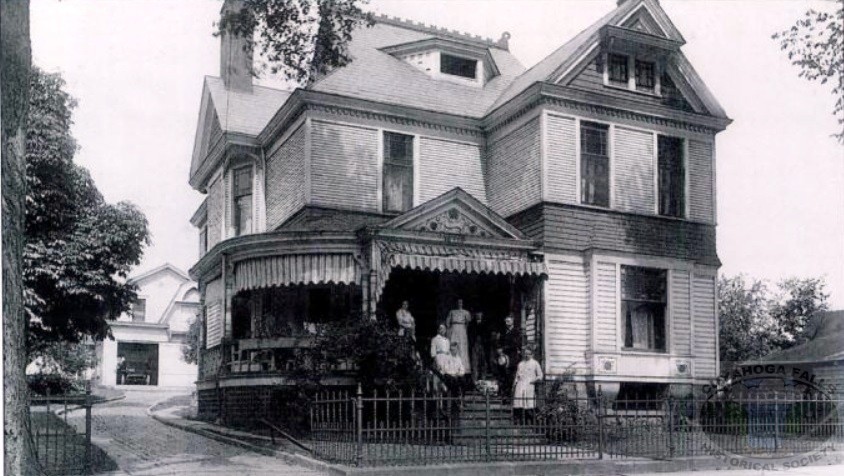 Dr. Floyd Smith (man holding the hat) was the son of Harvey Smith, a pioneer in homeopathic medicine. Floyd graduated from the Cleveland Medical College in 1896 at the age of 20. According to Marilyn Seguin's book Cuyahoga Falls, Ohio, a few days after opening his practice, Dr. Smith was called to a case of hiccups. He wasn't sure how to treat the man because hiccups were a rare occurrence. While pondering what to do a mysterious voice said, "Give him chloroform." Until the day he died Dr. Smith believed it to be his late father who spoke to him.

1919 Map. Black box shows 14 Front Street where the Smiths resided. This house would have sat between The Hidden Pearl and the Falls Theatre. Next door the map shows the Clifford hotel but in 1919 it was called Hotel Philo.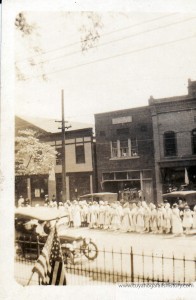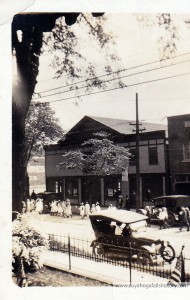 Both photos above were taken from the front of the Smith home at 14 Front Street. The large building across the street is the Tifft & Vogan Building.