Mar 20 2013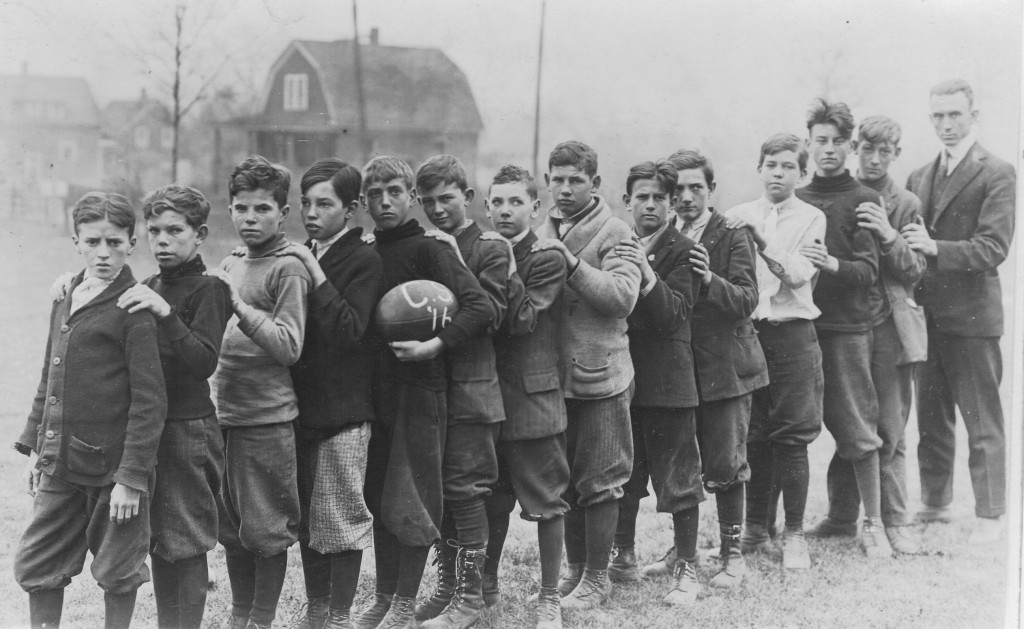 Year Unknown. L to R: Marvin Maxwell, Earl Cook, John Porter, Ralph Hertzler, Donald Senn, ____ Whitaker, Earl Ryan, Lisle Weaver, Earl Howe, Gurney Chronister, Carl Cannon, Burtram Smith, Coach Wade Moyer.
Football has been by far the most spectacular sport over the last 100 years. The first high school football teams' records found start in 1911. The team played its home games on the East Side field, now the southeast corner of Deming and Curtis Streets. James C. DeLong was captain and Gus Kittlebarger, an 1896 Falls High graduate, was coach. The teams used that field until the new high school was opened on Fourth Street in September 1922.
William H. Richardson, superintendant of Falls Schools, hired Gilbert Roberts upon as football coach and teacher in September 1919. Mr. Roberts stayed on as coach in all sports, then as athletic director and history teacher until September 1924 as Falls High principal. Marvin J. McKinney was 1919 football captain at Falls High an honor he also carried at West Point with the Army team four years later.
In 1924 the football field was again moved to the south side of the school property just back of the houses on the north side of Stow Street. A wooden grandstand that held 300 people was built. This changed the whole atmosphere for the people who had always followed the play up and down along the side line.
Paul Yost turned out a 'bell ringer' in 1925. His Falls High football team won all its nine games, scoring 251 points while holding its opponents scoreless for the entire season.
In 1939 the seating capacity of the Falls High football grandstand was increased by adding more bleachers and night lights were installed, making it possible to play on Friday nights instead of the old Saturday afternoon games.
Earl C. Clifford, president of the Cuyahoga Falls Board of Education was killed in the "doodlebug" train crash of July 31, 1940. The new Falls High football stadium was then dedicated "Clifford Stadium" in his honor that fall.